3.5k
24
Toronto Van Attack Victims Funds
$221,374
of $1.0M goal
Raised by
3,533
people in 16 months
Toronto Van Attack Victims Fund has now partnered up with the #TorontoStrong Fund
Friday, 27 April 2018
Canada Zakat's project team at DawaNet would like to sincerely thank everyone who has contributed to the TorontoVanAttack Victims Fund campaign!
As per the recommendation of Mayor John Tory's office, we are pleased to announce our partnership with the Toronto Foundation. This means that all funds raised via this GoFundMe campaign will be transferred over to #TorontoStrong Fund, upon this campaign's conclusion.
The #TorontoStrong Fund was setup in partnership with the Mayor's Office, the City of Toronto and the Toronto Foundation. This partnership will help ensure that the community's collective efforts are well-coordinated and the funds raised by various campaigns are utilized in the most effective & efficient manner to best help those affected. The TorontoFoundation will be working with various partners, including the Victim Services of Toronto.
We will continue to collect donations via this page, until the close of this campaign.
The TorontoVanAttack Victims Fund was started in response to the tragic incident that occurred on the afternoon of Monday, April 23rd 2018 involving a rental van that plowed through pedestrians in the Yonge & Finch area of North York, Toronto, killing 10 and injuring 15 people.
This fund was setup by Canada Zakat (a Project of
www.dawanet.ca
). Funds raised will be used towards funeral expenses of the victims, as well as to provide other support to the victims' families, survivors & first responders.
Our hearts go out to the families of the victims of this tragedy. You remain in our thoughts and prayers!
Previously, Canada Zakat successfully spearheaded fundraising campaigns for the Quebec Mosque Shooting Victims and for Aymen Derbali which collectively raised over $800,000 in response to the Quebec City Mosque Shooting tragedy.
Stay tuned for updates via this page, and also via
www.facebook.com/CanadaZakat
For Media inquiries please contact:
media@dawanet.ca
For all other inquiries please contact:
junaidsohail@dawanet.ca
Or Call: 1-877-944-3292
DawaNet is a Canadian Non-Profit that seeks to be the premier Muslim organization working to build bridges of understanding and nurturing confident, caring and contributing citizens. DawaNet currently does not have a registered charity status, and therefore cannot issue charitable donation receipts.
Learn more at
www.dawanet.ca
----------------------------------------------------------
These are the 10 people killed in the van attack. Top row, from left to right: Anne Marie D'Amico, 30, Dorothy Sewell, 80, Renuka Amarasingha, 45, Munir Najjar, 85, Chul Min (Eddie) Kang, 45, Mary Elizabeth (Betty) Forsyth, 94, Sohe Chung, 22, Andrea Bradden, 33, Geraldine Brady, 83, Ji Hun Kim, 22.
------------------------------------------------------------
LATEST UPDATES:

http://www.cbc.ca/news/canada/toronto/pedestrians-struck-white-van-1.4631564
-Death toll revised from nine to 10
-15 injured sent to various hospitals across Toronto
-Suspect identified as Alek Minassian, 25, of Richmond Hill, Ont.
Media Links:
MuslimLink
Global News
National Post
MacLeans 
Huffington Post
Straight
CBC
Daily Hive
Toronto Storeys
------------------------------------------------------------
Nine people are dead and 16 others are injured after a white van struck a number of pedestrians Monday in the Yonge Street and Finch Avenue area of North York in Toronto.
One suspect is in custody. 
Toronto police Deputy Chief Peter Yuen told reporters police have mobilized all available resources and that officers expect to be at the scene for a number of days to come.
"This is going to be a long investigation," Yuen said. There were numerous witnesses and surveillance cameras in the area, he said.   
An unidentified woman, who police say witnessed a van striking multiple people at Yonge Street and Finch Avenue in Toronto, reacts to the horror Monday afternoon. Nine people were killed and 16 injured, police say. (Carlo Allegri/Reuters)
Police were called to the Yonge and Finch area for a report of a crash around 1:30 p.m. after a van mounted the curb and hit pedestrians on the sidewalk before being stopped by police.
"There were a lot of pedestrians out enjoying, a lot of witnesses out enjoying the sunny afternoon," Yuen said. Police are establishing two hotlines — one for victims and their families, and the other for witnesses to call in information related to the incident.
 A witness said separately that he had seen at least four bodies lying covered on the ground and that the people hit included a man who was crossing the street and others on the sidewalk.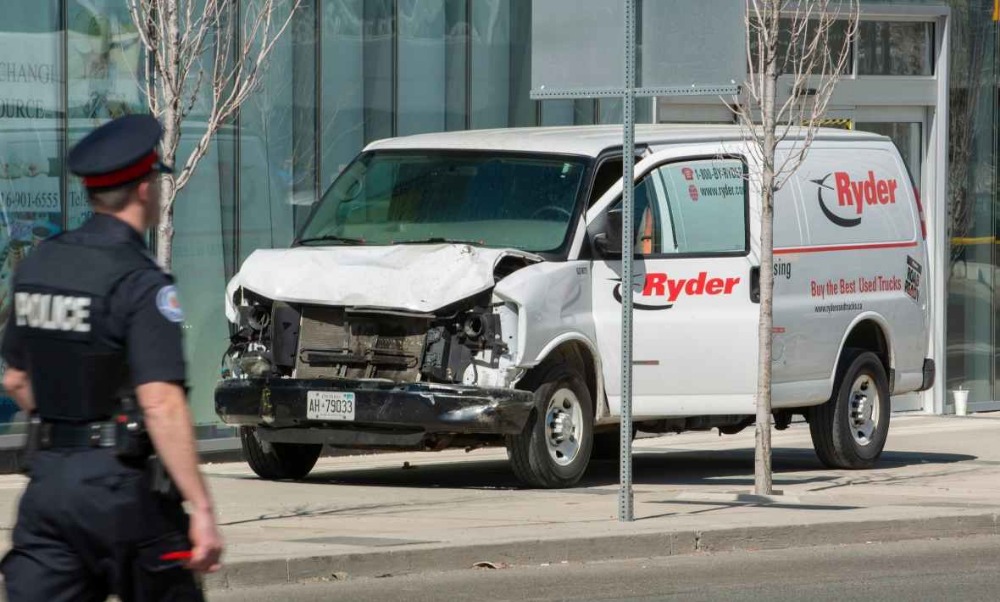 Police inspect a Ryder van suspected of being involved in the collisions injuring numerous people at Yonge and Finch. (Warren Toda/EFE/EPA)
 A news release from Sunnybrook Hospital on Bayview Avenue said 10 patients had been brought to its trauma centre and that its emergency department had been locked down as a precaution. 
Mayor John Tory said his office was being updated by Toronto Fire Service, Toronto Paramedic Services, the TTC and the acting city manager.  
"My thoughts are with those affected by this incident and the frontline responders who are working to help those injured. I have offered any and all assistance that the city can provide to police to help this investigation."
Prime Minister Justin Trudeau expressed condolences as he was heading into question period in Ottawa. He said he was just learning of the incident.
"Our hearts go out to everyone affected," Trudeau said. He said he would have more to say in the coming hours. 
A police officer responds to incident where a van struck multiple people at a major intersection in Toronto's northern suburbs in Toronto, Ontario, Canada. (Carlo Allegri/ Reuters)
Marianne Cho, a worker at Kayagum Restaurant, 5460 Yonge St., said the area had been blocked off by police.
"I just see one man lying at an intersection at Yonge and Kempford. There are ambulances around him and paramedics and cops," she said. 
"I was just working and then another worker told me a man might have been possibly been hit by a car. I see a man on the road right now and he's been there for quite a while. He hasn't been moving at all." 
The man was less than 100 metres from the restaurant. 
In a statement, Ryder, the company from which the van was rented said it was co-operating fully with authorities.
Emergency services close Yonge Street in Toronto after a van mounted a sidewalk crashing into a number of pedestrians. (Aaron Vincent Elkaim /The Canadian Press)
The Toronto Transit Commission, meanwhile, suspended Line 1 subway service between Sheppard and Finch stations and said there would be no shuttle bus service.
TTC spokesperson Brad Ross said northbound trains were emptying at Sheppard station and trains would run empty to Finch station, bypassing North York Centre station.
+ Read More