281
3
Un traitement pour Haoura en Irak
€6,046
of €18,248 goal
Raised by
286
people in 6 months
(French version)
[Mis à jour le 13.02]
Les autres enfants du village refusent de jouer avec elle. 
À 4 ans, Haroua souffre d'une rare maladie de peau (le naevus congénital) qui couvre une partie de son corps. 
Nous pouvons l'aider. 


Touché par son histoire et convaincus que l'on pouvait faire quelque chose nous avons pris contact avec Haidar Hamdani, journaliste à l'AFP qui est l'auteur de ce reportage et de cette dépêche. Il est en contact avec la famille et a à sa disposition les certificats médicaux qu'il nous a déjà transmis. Aucun hôpital de la région n'est équipé pour ce type de greffe.



Où en sommes-nous ? [DERNIÈRE LIGNE DROITE] Mis à jour le 13.02


> Nous avons rencontré mi-septembre le Docteur Bennaceur qui exerce entre autres à l'hôpital Robert Debré à Paris en chirurgie plastique, reconstructrice et esthétique. Il a opéré de nombreux Naevus congénitaux comme celui dont souffre Haoura. 

> Nous lui avons présenté le cas de la jeune fille : il nous a expliqué qu'une intervention en France dans son service était tout à fait envisageable sous réserve d'obtenir un Visa. 

> Il nous a été présenté par Fatima et Morade, un couple de français dont le fils Ismael (7 ans aujourd'hui) souffre d'un naevus équivalent. Il a été opéré par le Dr Bennaceur à plusieurs reprises depuis sa naissance pour en réduire progressivement la surface. 



(Ismael et sa maman Fatima) 

> Cette famille acceuillera chez elle Haoura et sa maman durant les 2 mois de soins quotidiens qui suivront l'opération. Habitués aux précautions à prendre, ils sont pour Haoura les hôtes rêvés. 



Les étapes en cours : Mis à jour le 13.02

> Nous avons enfin une date d'opération ! 


1. Haoura peut-elle / doit-elle venir seule ou non ?

Il y a eu de nombreux et longs échanges avec la famille d'Haoura mais également la famille d'accueil afin de prendre la décision. Pour l'heure, nous allons tenter de faire une demande de Visa Mère-fille et nous aviserons si jamais cela posait problème. (Cela permettrait à la maman de voir comment se font les soins à la maison, d'être là pour sa fille pendant cette épreuve, …)


2. Haoura ne disposait d'aucun papier contenant ses noms et prénoms en écriture latine
, ce qui a bloqué la réalisation d'un devis de la part de l'hôpital qui nécessitait l'orthographe exacte. C'est désormais ok, le passeport a bien été délivré. 


3. Nous disposons enfin du devis précis de l'hôpital et d'une date d'opération 
sous réserve de collecter suffisamment de fonds et d'obtenir le
Visa dont la demande est en cours
. 



Quelle répartition des coûts ?  Mis à jour le 13.02
Nous avons désormais le devis de l'hôpital que vous pouvez consulter dans les photos. 


> Billets d'avion x 2 : 1 200€ A/R
> Visa x2 : 120€
> Assurance médicale : 178€*
> Soins infirmiers à domicile**(base 61 jours) : 1250€
> Frais d'opération / hospitalisation : 12 100,50 €
> Retrait des agrafes : 1 600€ (estimation à date / en attente du devis)
> Matériel de soin*** : 1 800€
> Frais annexes = prise en charge d'Haoura et sa maman pendant 2 mois : hébergement, transports, dépenses alimentaires, achat de quelques vêtements d'hiver : Pris en charge gracieusement par Fatima et son mari Morade. <3

Total : €18 248,5



Dès le retour d'Haoura et sa maman, nous mettrons à disposition de tous les contributeurs, l'ensemble des factures correspondant à chacune des dépenses. 


*obligatoire pour la demande de Visa / Devis Assurance AXA Voyage "formule low-cost"
**Tarifs disponibles sur Ameli.fr
***le matériel de soin post-opératoire est très spécifique ont un coût très élevé, il fait font partie de cette enveloppe :  set pansements infirmiers, pansements mepilex, mepitel, bandes velpeau, sérum physiologique, fusidine, flamazine, anti-douleurs, compresses, tulle gras, diprosone. (Pour l'heure, il s'agit d'une estimation)


Prochaines étapes ? 

Collecte des fonds : avant le 16.04.19 (fin de validité du devis de l'hôpital) 
Arrivée d'Haoura et de sa mère : le 10.11.19
Rdv anesthésiste : 12.11.19
Opération d'Haoura : 20.11.19
Soins d'Haoura : du 21.11.19 au 09.01.20
Retour d'Haoura en Irak : 10.01.20



Quelle distribution ?

- Nous gérerons directement auprès des voyagistes et professionnels de santé, le paiement des soins et de la logistique.


Merci.


(Son histoire en détail se trouve ci-dessous.) 


Marine. P, organisatrice de la collecte
Fatima et Morade M., famille d'accueil 
Haidar H, reporter photo intermédiaire avec la famille en Irak
Mrs Manar, intermédiaire avec la famille en Irak
Dr Amal Shamma, coordinatrice et pédiatre arabophone et intermédiaire avec Haidar/Mrs Manar et la famille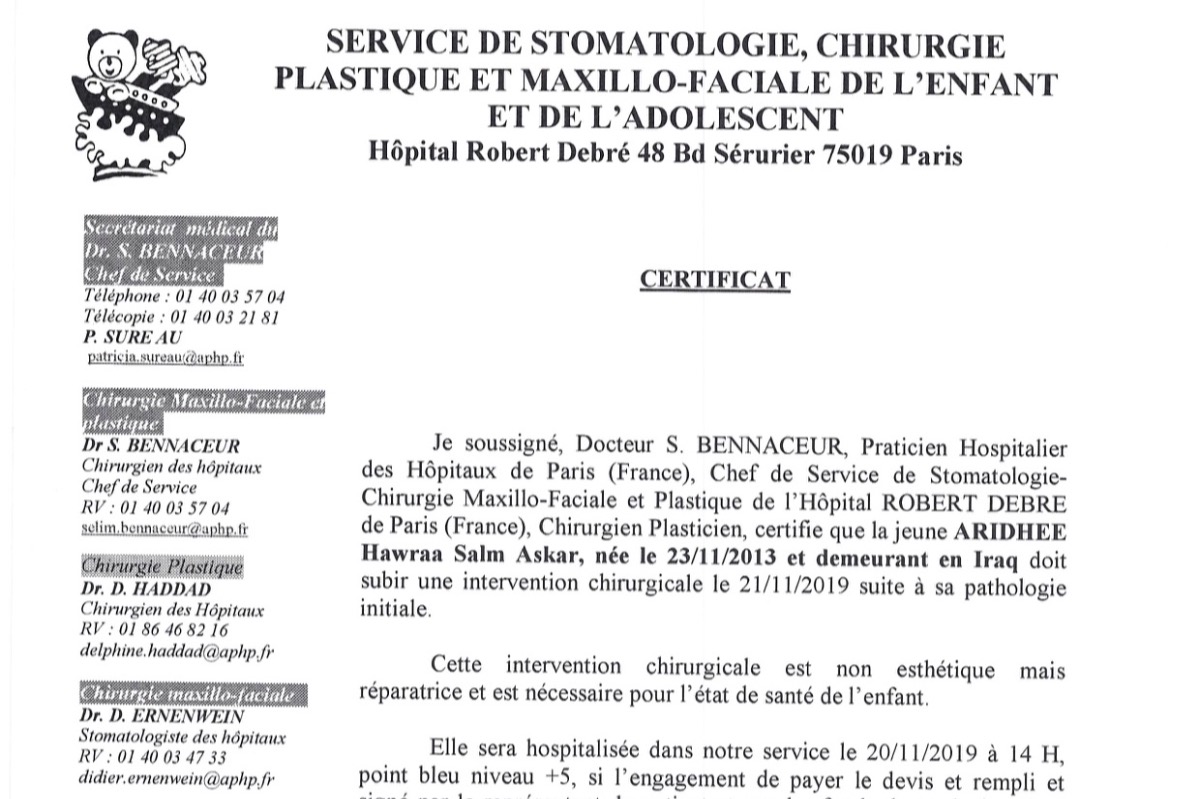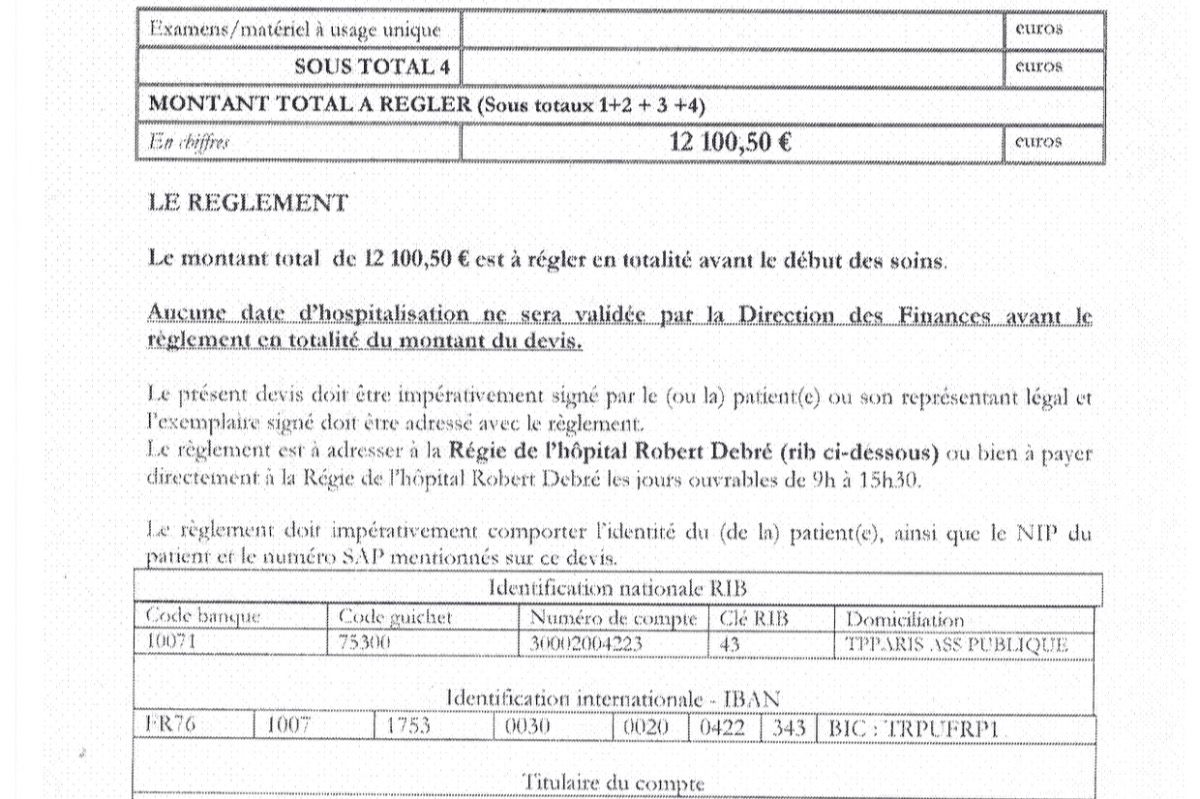 —-

(English version)


[Updated on 02.13.19]
Other kids of the village refuse to play with her.


At 4 years old, Haroua suffers from a rare skin disease (Congenital Melanocytic Nevus) which covers parts of her body.

We can help her.

Moved by her story and convinced that we could do something, we got in touch with Haidar Hamdani, a journalist for the AFP and author of the report and press dispatch.

He is in touch with her family and possesses the medical certificates which he already transmitted to us. No hospital of their region is equipped for this type of graft.



Where are we now ? (HOME STRETCH) [Updated on 02.13.19]


>Mid September, we met Dr Bennaceur who does, among other things, plastic surgery -  reconstructive and aesthetic - at the Robert Debré Hospital in Paris. He already performed several Congenital Melanocytic Nevus surgeries, the same disease as Haoura's.  

>We introduced Haoura's case to him and he explained that an intervention in France, in his department, was possible as long as she got a Visa.

>He was introduced to us by Fatima and Morade, a French couple whom son Ismael - 7 years old today, suffers from an equivalent Congenital Melanocytic Nevus. He was operated by Dr Bennaceur several times since his birth to gradually reduce the disease surface. 



(Ismael and Fatima, his mother)

>Haoura and her mother will stay at their home during the two months of daily care following the surgery. Accustomed to the precautions to take, they are the perfect hosts for Haoura.



The current phases: [Updated on 02.13.19]

>We finally have a date for the operation!


1. Could/ Should Haroua come alone or not?

There have been several long talks with Haoura's family but also with the hosting family to make a decision. For now, we will try to get a Mother-Daughter Visa and will find another way if there is an issue. (This solution would allow her mother to see how to make the home cares and to be present for her daughter during this hard time.)


2.
Haoura didn't have any papers mentioning her name in Latin writing which has blocked the process for the hospital to make the quote, the exact latin spelling being necessary. 
Now that it's done, the passeport has been delivered.
3. We finally have the precise quote from the hospital and the date
for the operation, on condition that we have enough funds and the Visa - which has been asked. 



How are the costs divided? [Updated on 02.13.19]


We finally have the hospital's quote which you can see on the pictures above.

> Plane tickets x 2: €1.200 (round trip)
> Visa x 2: €120
> Medical assistance: €178*
> Nurse care at home** (on a 61 days basis): €1.250 
> Surgery/hospitalisation fees: €12.100,50
> Staples Removal: €1.600 (waiting for the official invoice)
> Medical equipment***: €1.800
> Additional charges: caring of Haoura and her mother for 2 months: food,transportation, babysitting for Fatima's children when she will go to the hospital with Haoura and her mother, feeding fees, shopping of some clothes for the winter time: graciously donated by Fatima and her husband Morade. 

Total: €18.248



As soon as Haoura and her mother will be back, we will share all the invoices of every expenses with all the contributors.


*mandatory for the Visa request/ AXA Travel Assistance's quote for the "low-cost option"
**prices available on Ameli.fr
***the specific postoperative Mepilex dressings, skincare creams, ... are very expensive, they are part of the budget (for now, it is an estimate).



Which split?


We will deal with the travel agents and the health professionals for the care fees and every logistic points. 


Next steps?


Fund-raising: before the 04.16.19 (end of the Hospital estimate's validity)
Arrival of Haoura and her mother: 11.10.19
Anesthetist appointment : 11.12.19
Haoura's surgery: 11.20.19
Haoura's care: from the 11.21.19 to the 09.01.19
Haoura and her mother's return to Irak: 01.10.20


Thanks.
(Her whole story is available below in english.)



Marine P., fund-raising's organiser
Fatima and Morade M., hosting family
Haidar H., photo reporter, intermediary with the family in Irak
Mrs Manar, intermediary with the family in Irak
Pr Amal Shamma., Arabic-speaking pediatrician and intermediary with Haidar/Mrs Manar and the family


----

(Her story in french)
Son histoire : 

Haoura, une fillette irakienne de quatre ans, souffre d'une rare maladie de peau qui couvre une partie de son corps d'une large tache noire recouverte de poils. A Wahed Haziran, le - © Haidar HAMDANI / AFP
 
Haoura, quatre ans, ne sort quasiment jamais. Dans son village du sud irakien, les autres enfants refusent de s'approcher d'elle car elle souffre d'une rare maladie de peau qui couvre une partie de son corps d'une large tache noire recouverte de poils.

Sa famille, qui se désespère de son isolement et de cette maladie qui pourrait devenir maligne, n'arrive toutefois pas à la faire soigner. Faute de moyens, les parents ne peuvent en effet envisager une opération, forcément loin de leur village de Wahed Haziran, dans la province agricole de Diwaniya, à 200 kilomètres au sud de Bagdad.

Chaque jour, les parents de Haoura la revêtent de longs vêtements: manches longues, col montant, mais rien n'y fait. Les quelques centimètres de peau de son cou où apparaît la tache noire lui valent quolibets, dénigrement et mise au ban.

"Dans deux ans, elle devra aller à l'école, nous redoutons vraiment cette rentrée", affirme à l'AFP sa mère, Alia Khafif.

"Comment les autres enfants se comporteront-ils avec elle? On ne peut pas garantir qu'elle sera à l'aise dans une école et c'est le plus grand obstacle pour son avenir", soupire cette Irakienne, recouverte du long voile noir, traditionnel dans le pays.

Haoura est née avec un naevus géant congénital. Ses épaules, une partie de son torse et tout son dos sont recouverts d'une immense plaque noire intégralement couverte de poils.

- "Pas de traitement en Irak" -

Cette tache "la dérange, et lui provoque des démangeaisons, surtout l'été", dans un pays où le thermomètre dépasse aisément les 50 degrés durant cette saison, explique sa mère.

Mais au-delà de l'inconfort, ce naevus pourrait se transformer en mélanome, c'est-à-dire en cancer de la peau "qui peut être fatal", explique à l'AFP le dermatologue Aqil al-Khaldi.

Le traitement le plus efficace est une greffe de peau, des séances de laser et un accompagnement psychologique, assure-t-il. Autant d'opérations impossibles à mener en Irak, dont le secteur médical, anémié par une décennie d'embargo international, a été mis à genoux par les 15 années de violences et de corruption endémique qui ont suivi.

Les médecins que la famille a vu ont assuré qu'il s'agissait d'un cas unique.

"Nous avons vu plusieurs médecins et ils nous ont tous dit qu'il n'y avait pas traitement disponible en Irak. Ils disent tous qu'il faut aller dans un centre spécialisé à l'étranger", assure la mère de Haoura. Or, "on ne peut ni payer le voyage ni les frais médicaux".

"Ce que nous avons nous suffit à peine à vivre et à envoyer ses quatre frères et soeurs à l'école", poursuit celle dont l'époux, âgé et malade, ne travaille pas.

Dehors, dans les rues du village, les enfants qui passent sont catégoriques: "même si le prophète nous le demande, on ne jouera pas avec elle".

Alors en attendant, chaque jour, cachée des regards derrière la porte de sa maison, Haoura observe ses frères et soeurs prendre le chemin de l'école avec les autres enfants.

Puis, seule sans compagnon de jeu jusqu'à leur retour, elle reste assise dans la petite maison de briques et de terre battue.

Source :
https://www.facebook.com/brutofficiel/videos/281456199339483/
 

---

(English version)
Her story 

Wahed Haziran (Irak) (AFP) - Four-year-old Iraqi girl Haura should be enjoying her childhood -- games in the street, tearing in and out of friends' homes and small squabbles over toys.

Instead, a rare congenital skin condition covering much of her upper body in black marks and hair has made her the object of ridicule in her village, about 200 kilometres (120 miles) south of Baghdad.

Everyday, Haura's parents dress her in long sleeved shirts and high collars, but it's a losing battle -- her neck gives her away, to laughter and jeers.

"In two years, she will have to go to school -- we really dread that", says Haura's mother Alia Khafif at the family home, in Wahed Haziran, Diwaniya province.

"How will the other children behave with her? We can't guarantee that she'll be comfortable in a school and this is the biggest obstacle for her future", sighs Khafif, dressed in a traditional long black veil.

The black marks and hair cover Haura's shoulders and almost her entire back, along with much of her arms and neck.

But things could still get a lot worse.

Her condition, a giant form of naevus -- birthmarks or moles -- make her highly vulnerable to malignant melanoma, the most dangerous skin cancer.

To ward off a potentially "fatal" outcome, the best treatments would be a skin graft and laser sessions, dermatologist Aqil al-Khaldi tells AFP. He also recommends psychological help.

But Haura's despairing family can't afford these things.

Iraq's medical system has been destroyed by the 15 years of chaos that has followed the toppling in 2003 of dictator Saddam Hussein, and by more than a decade of sanctions before that.

- 'Won't play with her' -

"We have seen several doctors and they all told us that she cannot be treated in Iraq. They all say we have to go to a specialist centre abroad," says Haura's mother.

"We cannot afford the journey or medical costs."

Even treatment to alleviate itching is beyond the family's reach -- and the irritation gets worse with the Summer heat, as temperatures regularly exceed 50 Celsius (120 Fahrenheit).

"What we have is barely enough to live on and to send four brothers and sisters to school," adds Khafif, whose husband is old, sick and unemployed.

Haura's teenage brother Ahmad stands up for her.

"She's a normal child, there's nothing wrong with her," he insists.

"But when she leaves the house, our neighbours laugh at her."

Outside in the street, passing children avoid her like the plague.

"Even if the Prophet asks us, we won't play with her", one says.

So when her siblings head to school, Haura sits and plays on her own -- or peers mournfully into a little green-framed mirror, held up close to show only her big brown eyes and pretty face.

Source :
https://www.yahoo.com/news/iraqi-village-little-girl-hides-skin-disease-neighbours-014445220.html

+ Read More