Join Jasmyne's fight :: Joignez-vous à la lutte
(Le texte français suit)

JOIN JASMYNE'S FIGHT AGAINST CANCER

Four-year old Jasmyne was ready to start junior kindergarten this fall when her moms noticed she wasn't feeling well. The second youngest of six children to Alice and Maryele, Jasmyne couldn't wait to join her other siblings at their local French catholic school where Maryele also works as a teacher.
Jasmyne, who has had developmental delays since she was a baby, had recently experienced a major loss in appetite and energy. When she started to rapidly lose weight and experience shortness of breath, Alice and Maryele took her to CHEO to investigate. After a few false starts, Jasmyne was diagnosed with advanced Wilms' tumour, a rare form of kidney cancer.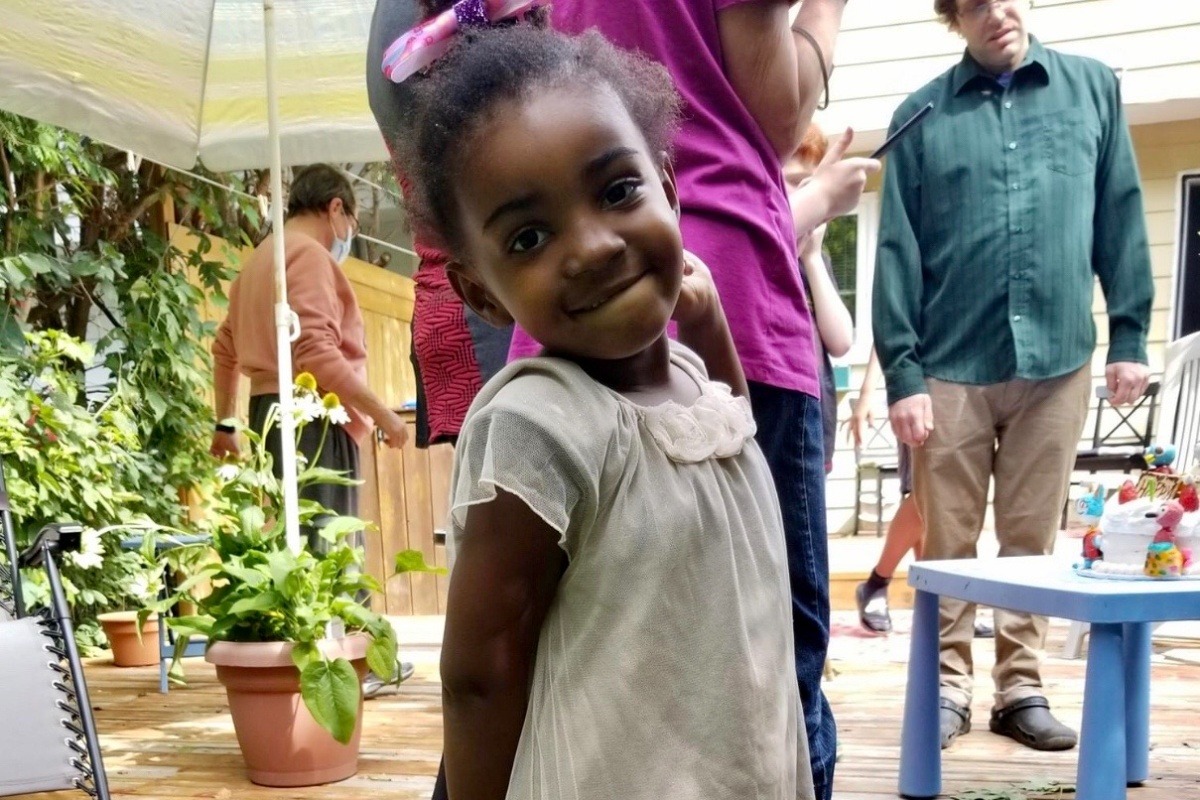 Jasmyne's cancer treatment is complex, as the tumour is large and has spread beyond her kidney, wrapping around her lung and a major artery. Wilms' tumour primarily affects children (one in every 10,000) and those of Black African ancestry are at a higher risk for it, not to mention the barrier that racial bias can pose in getting timely, effective medical treatment. Jasmyne has begun the six weeks of chemotherapy she'll need before surgeons can operate on her tumour, and she's already required five blood transfusions and a feeding tube, among other interventions. And we don't know what's next.

It will be a long road for this courageous 4-year old, her mamas and five siblings. But Alice and Maryele are no strangers to family challenges.

Six years ago, after doing respite care for their local Children's Aid Society, a social worker suggested that the Audrain-Gauthiers would be the ideal adoptive family for a sibling group they had been occasionally fostering. The family of five agreed, and soon after they welcomed Jasmyne and Jade into the fold. Two years ago, their daughters' biological mom asked if they would also be willing to adopt her newborn (they were!) and shortly thereafter baby Jérémy joined his sisters and their new family. These mamas have become fierce advocates for open adoption, family reunification, LGBTQ2+ families and racial justice. All the while they have helped their kids find joy and resilience while dealing with complex developmental issues, trauma, racism and institutionalized discrimination. They are wonderful parents with open, generous hearts.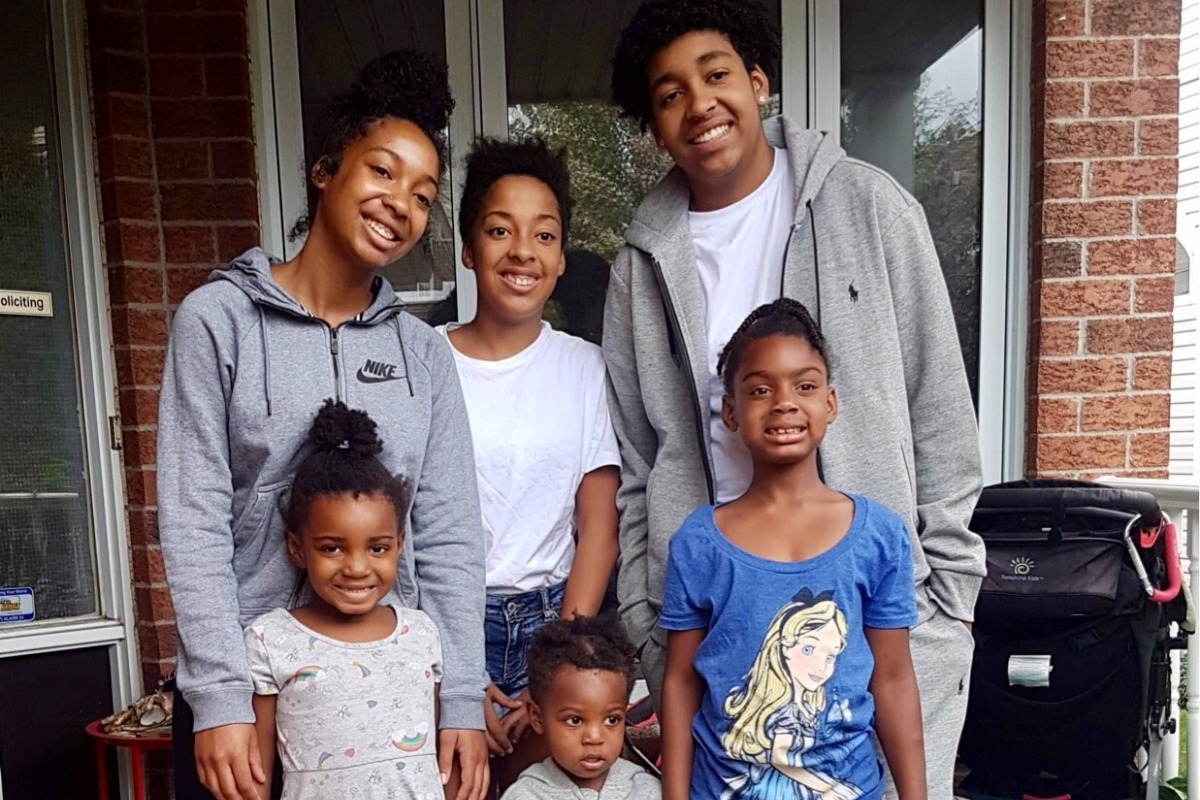 Maryele is also a cancer survivor herself, having received her own cancer diagnosis 10 years ago. After eight rounds of chemotherapy and a mastectomy for her breast cancer, she knows firsthand about the journey Jasmyne is commencing.

These women are so strong. But they need our community's help.

While we are fortunate in Canada to have universal health care, the additional expenses associated with having a child with critical illness are overwhelming for this family. Alice, unable to find work due to the pandemic, has been at Jasmyne's side around the clock and Maryele must soon return to teaching her kindergarten class. The two moms also trade off care for their other children, including one who has complex trauma and special needs. Living on one income with six kids is challenging enough, but Jasmyne will need specialized therapy and other treatments to get her healthy again and these costs fall outside the family's extended insurance plan. The family will also need support for their other children to help them adapt to this new reality. Since Jasmyne's condition is changing rapidly there is no telling what her future needs may be when she is eventually able to return home, and what modifications the family might need to make to accommodate her comfortably. 

This loving family of eight has shown such courage and strength during this difficult time. Please consider supporting them through Jasmyne's treatment and keeping them in your thoughts. We appreciate your generosity from the bottom of our hearts.

Signed,
Emily Turk
Adrienne Silnicki

Co-sponsors:

Gabrielle Brosseau
Laurent Brosseau
Louis-Philipe Brosseau
Joshua Cenacle
Karine Chapleau & Jean Brosseau
Michel Gauthier
Nathalie Godard
Nadège Gouba
Nathalie Guitard
Irene Jansen
Marion Petit & Julio Kimfoko
Chantal & Mark Plunkett
Joanne Lacroix
Cynthia Misener
Tracey Pongs
Hariranja Rakoto
Manon Risoul
Geneviève Romard
Lisa Wagner-Boisvert

=======================================
 
JOIGNEZ-VOUS À LA LUTTE DE JASMYNE CONTRE LE CANCER 

Jasmyne, quatre ans, était prête à entrer en maternelle cet automne lorsque ses mères ont remarqué qu'elle ne se sentait pas bien. Deuxième plus jeune des six enfants d'Alice et Maryele, Jasmyne était impatiente de rejoindre ses autres frères et sœurs à l'école catholique française locale où Maryele travaille également comme enseignante.

Jasmyne, qui souffre de retards de développement depuis qu'elle est bébé, a récemment subi une perte importante d'appétit et d'énergie. Lorsqu'elle a commencé à perdre rapidement du poids et à avoir le souffle court, Alice et Maryele l'ont emmenée au CHEO. Après plusieurs testes, Jasmyne a été diagnostiquée avec une tumeur de Wilms avancée, une forme rare de cancer du rein.


Le traitement du cancer de Jasmyne est complexe, car la tumeur est grosse et s'est étendue au-delà de son rein, s'enroulant autour de son poumon et d'une artère principale. La tumeur de Wilms touche principalement les enfants (un sur 10 000) et ceux d'ascendance noire africaine sont plus exposés à ce risque, sans parler de l'obstacle que les préjugés raciaux peuvent constituer pour l'obtention d'un traitement médical efficace et en temps utile. Jasmyne a commencé les six semaines de chimiothérapie dont elle aura besoin avant que les chirurgiens puissent opérer sa tumeur, et elle a déjà eu besoin de cinq transfusions sanguines et d'un tube d'alimentation, entre autres interventions. Et nous ne savons pas ce qui va suivre.

La route sera longue pour cette courageuse petite fille de 4 ans, ses mères et ses cinq frères et sœurs. Alice et Maryele ne sont pas étrangères aux défis familiaux.

Il y a six ans, après avoir fait de l'accueil de répit pour la société d'aide à l'enfance locale, un travailleur social a suggéré que les Audrain-Gauthiers seraient la famille adoptive idéale pour un groupe de frères et sœurs qu'ils avaient occasionnellement accueilli. La famille de cinq personnes a accepté, et peu après, elle a accueilli Jasmyne et Jade au sein de la famille. Il y a deux ans, la mère biologique de leurs filles leur a demandé si elles étaient également prêtes à adopter son nouveau-né (et prêtes, elles l'étaient) et peu après, le bébé Jérémy a rejoint ses sœurs et leur famille. Ces mères sont devenues de fervents défenseurs de l'adoption ouverte, du regroupement familial, des familles LGBTQ2+ et de la justice raciale. Tout en aidant leurs enfants à trouver la joie et la résilience, elles ont dû faire face à des problèmes de développement complexes, à des traumatismes, au racisme et à la discrimination institutionnalisée. Ce sont des parents merveilleux, au cœur ouvert et généreux.


Maryele est elle-même une survivante du cancer, ayant reçu son propre diagnostic de cancer il y a dix ans. Après huit cycles de chimiothérapie et une mastectomie pour son cancer du sein, elle connaît de première main le parcours de Jasmyne.

Ces femmes sont tellement fortes. Mais elles ont besoin de l'aide de notre communauté.

Bien qu'au Canada nous soyons chanceux d'avoir accès à la couverture universelle des soins de santé, les coûts additionnels qui vont de pair avec la réalité d'avoir un enfant atteint d'une maladie grave sont accablants pour cette grande famille. Alice, incapable de trouver du travail en raison de la pandémie, est aux côtés de Jasmyne 24 heures sur 24 et Maryele doit bientôt retourner enseigner à sa classe de maternelle. Les deux mamans ont également besoin de s'occuper de leurs autres enfants, dont l'une souffre de traumatismes complexes et a des besoins particuliers. Vivre avec un seul revenu avec six enfants est déjà assez difficile, cependant Jasmyne a besoin de thérapies spécifiques à ses besoins, ainsi que d'autres traitements pour retrouver la santé et ces frais ne sont pas couverts par leur assurance santé. La famille a aussi besoin de soutien pour ses autres enfants afin de les aider à s'adapter à cette nouvelle réalité. Puisque l'état de santé de Jasmyne évolue rapidement, il est difficile de savoir qu'elles seront exactement ses besoins futurs à l'hôpital et quand elle pourra enfin rentrer chez elle, ni même quels changements ou accommodations la famille va devoir faire pour l'accueillir confortablement.

Cette famille formidable a montré un courage et une force exemplaire durant ces temps difficiles. Merci de prendre le temps de lire ce message et de leur offrir votre soutien au travers des traitements de Jasmyne. N'oubliez pas de les garder dans vos prières et vos pensées. Du plus profond de nos cœurs, nous vous remercions de votre générosité.

Signé,
Emily Turk
Adrienne Silnicki

Coparrains :

Gabrielle Brosseau
Laurent Brosseau
Louis-Philipe Brosseau
Joshua Cenacle
Karine Chapleau et Jean Brosseau
Michel Gauthier
Nathalie Godard
Nadège Gouba
Nathalie Guitard
Irene Jansen
Marion Petit et Julio Kimfoko
Chantal et Mark Plunkett
Joanne Lacroix
Cynthia Misener
Tracey Pongs
Hariranja Rakoto
Manon Risoul
Geneviève Romard
Lisa Wagner-Boisvert

Fundraising team (3)
Emily Turk 
Organizer
Raised $4,205 from 45 donations
Ottawa, ON
Adrienne Sinicki 
Team member
Raised $1,975 from 20 donations
#1 fundraising platform

More people start fundraisers on GoFundMe than on any other platform. Learn more

GoFundMe Guarantee

In the rare case something isn't right, we will work with you to determine if misuse occurred. Learn more

Expert advice, 24/7

Contact us with your questions and we'll answer, day or night. Learn more